Empower Community Based Economies
We help you empower your community economy.
Our product, SmartCoin, empowers clients to define customizable coin economies that they can use for business needs.
Local Currencies
Concept
Urban centers draw people—especially young people. Revitalizing non-metropolitan regions are the centerpiece in tackling Japan's demographic challenges.

Our product, SmartCoin, can be used to assist the government or financial institutions in supporting local businesses and educating consumers about how their money circulates in the local economy. Local coins for various regions of Japan are meant to maximize the circulation of goods, services, and capital within a defined region, thus strengthening the local economy.
Community Currencies
Game Currencies: Concept
One in three people in Japan play video games. It's a $13.6B industry. Players often spend hundreds or thousands of hours on a single online game, thereby investing a lot of energy into their virtual characters and assets. If a player loses interest in a certain game, their assets would normally be left to decay, devoid of all value.
With each new game, players have to start from scratch, and while this is often an interesting element of gameplay, it shouldn't be the only option available.
SmartCoin enables players to play in different games that share economies between their game-worlds. 
Airline Coins: Concept
Traffic for the airline industry of Japan reached around 120 million passengers in FY 2016. It's approximately an $84B industry. Consumers face agitation since on many occasions, they lose their airline miles because they expire very quickly.

SmartCoin can be used to extend todays loyalty program services into something more transposable. Travelers can convert their miles into coins which can then, not only be used for purchasing domestic and international flight tickets but for purchasing goods at affiliated merchant stores as well.
Virtual Currencies
Concept
Virtual currencies have a current valuation of more than $200B. Most wallets today limit their users to buy/sell existing currencies in the market and cash out in fiat money.

"So essentially what's going on is in a distributed, decentralized fashion, these people are trying to jump into the coin early to benefit from people who jump in late. That's no good way to make money. It's not societally good, it doesn't produce actually value in a tangible form, it doesn't make anybody's life better. These coins are useful when you can send them across the internet, when they serve as a payment mechanism. The coin that you hold and don't spend — can't spend — is a worthless coin."

-Emin Gün Sirer
SmartCoin takes this revolution forward while continuing to fast track payments. Our technology allows partner networks to not only define their own virtual currencies, but make thousands (and more) of them. In such a coin economy, participants would be able to buy/sell these currencies while using the wallet for its core purpose: hold coins and make payments.
Orb Distributed Ledger Technology (DLT) is a data and transaction platform that is consensually shared and synchronized across institutions, data centers, cloud providers, and geographic regions. Orb DLT's advanced methods for sharing data, transaction logic, and workflow across partner networks help firms reduce costs, operational risk, and complexity.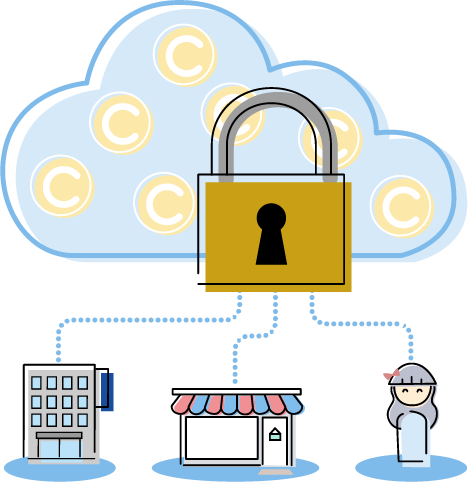 Orb DLT is a robust distributed ledger that provides provably accurate transactions on a highly-available distributed database.
No single point of attack in the entire network enhances security
Higher transaction throughputs in comparison to existing products in the market
SmartCoin's RESTful APIs help integrate DLT into existing financial infrastructure.
Want to know more? Set up a DEMO or simply say hello?